Executive Director
AnnMarie Baines
AnnMarie Baines has 20 years of experience in public speaking, vocal performance, and coaching. She has been a public speaking coach since 2001, including a decade at El Cerrito High, where her students have won prestigious awards at local, state, and national championships. The idea for The Practice Space came from her students, after years of hosting Sunday practices in her living room. AnnMarie has taught public speaking at UC Berkeley in the Department of Theater, Dance, and Performance Studies. She also performs with the San Francisco Symphony Chorus and studied voiceover acting at Voicetrax Sausalito. She currently serves on the Board of Directors for the Richmond Promise and project-based learning organization PBLWorks. In 2019, she was awarded a two-year Deeper Learning Equity Fellowship, a national fellowship for education leaders dedicated to promoting equity in schools and communities.
As a teacher and researcher, AnnMarie has focused on middle school, high school, and higher education, beginning her career as a high school special education teacher in the Boston Public Schools. During her time as a professor of secondary education at San Francisco State, she coached teachers and wrote a book for Teachers College Press entitled "(Un)Learning Disability". As a former Program Officer at the George Lucas Educational Foundation, she specialized in project-based learning, curriculum design, social and emotional learning, and developing youth voice. AnnMarie received her PhD in Educational Psychology and Learning Sciences from University of Washington, Master's in Education Policy from Harvard, teaching credential from Boston Teacher Residency, and undergraduate degree from UC Berkeley. She is a graduate of West Contra Costa Unified and an El Cerrito resident. Outside of The Practice Space, AnnMarie likes to bake cakes and other treats, unsuccessfully attempting to imitate what she watches on the Great British Baking Show.
Senior Program Director
Maribel Lopez
For the past twenty years, Maribel Lopez has been on a journey to expand educational equity through parent, student & community engagement, curriculum writing, and individual leadership development coaching in her community of West Contra Costa. In that time, she has developed skills and a passion that drives her to find new ways to affect positive change for social justice and racial equity.
As a former West Contra Costa student, bilingual elementary school teacher, and current parent of two daughters that attend WCCUSD schools, Maribel has deep roots in the community. Maribel was named WCCUSD teacher of the year in 2015 and uses her experiences to help create trusting relationships with families and decision makers centered around social justice and equity. Maribel has developed and led community leadership development work with a DEI lens where participants learn to harness their innate power by developing skills and strategies to support their advocacy and leadership efforts. Maribel holds a B.A. from the University of California, Berkeley in Social Welfare and a Masters in Urban Education from Loyola Marymount University.
Maribel lives in Richmond with her husband, two daughters, two french bulldogs and enjoys quiet moments of contemplation and decaf-coffee. 
Community Partnerships Director
Diana Medina
Diana Medina is a first-generation Mexican-American, born and raised in Los Angeles, CA. She has dedicated her career to being a champion for causes that strengthen, empower, and educate the communities of color. She brings over a decade of experience in the nonprofit sector where she has worked architecting programs and capacity building initiatives in the areas of criminal justice, youth development, education advocacy, and family engagement. Her passion is to uncover the full potential of individuals and organizations to make the world a better place. She is excited to channel her experiences and skills to serve The Practice Space. 
Diana holds a Bachelors degree in Political Science from California State University, Northridge and a Masters degree in Public Administration from the University of Southern California. She is an alumna of the Coro Fellowship in Public Affairs and the Education Pioneers Graduate Fellowship. She is currently working on obtaining her certification in Coaching for Transformation. In addition, she is participating in Alegria Magazine's Publishing Program, which supports up and coming Latinx writers to author their first books. Through this program she is working on her book, Heal Out Loud, which will be completed in 2021. In her spare time she puts her passions to work as a writer, storyteller, poet, and self-proclaimed extreme crafter who loves all things DIY.
Development Director
Caroline Clarke
Caroline Clarke has worked in development for over 15 years in the UK and the US. For the last 9 years, she has been the development and operations director at the Green Science Policy Institute in Berkeley. In this role, she has worn many hats: grants management, prospect research, budget management and board relations, to name just a few. Previously Caroline lived in the UK and worked in the development offices of the London Business School and the London School of Economics. She later lived in India where she carried out prospect research projects for a variety of arts and education organizations. She holds a BSc (Econ) and an MSc (Econ) in Politics of the World Economy from the London School of Economics. 
Caroline is delighted to join The Practice Space team. She believes fostering confidence in youth through public speaking is critical for success in school, the workplace and every other aspect of life.
You will often find Caroline walking the neighborhood with her rescue dog Amber, rushing to pick up one of her kids from school or watching teen-friendly shows with her family.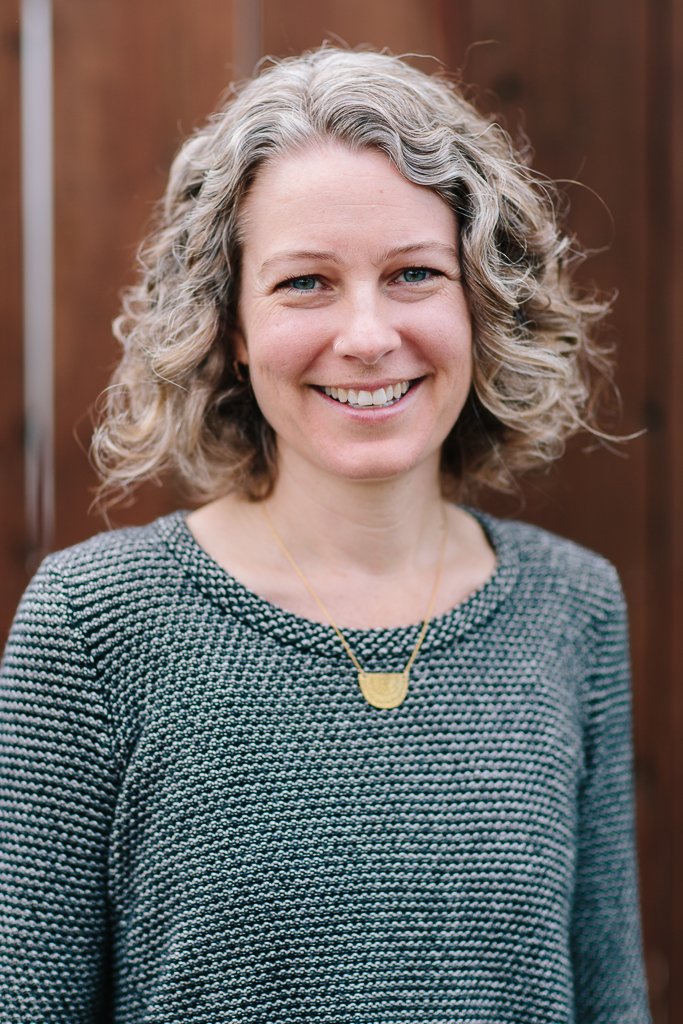 Education & Outreach Manager
Caitlin Healy
Caitlin Healy is an educator with over 15 years of experience teaching youth of all ages, as well as adults, and has been at The Practice Space for over three years. Prior to joining the team, Caitlin taught social studies for seven years in public schools, where she helped coach teachers on project based and blended learning. As a Program Coordinator for San Francisco Peer Resources, she supported high school students in facilitating peer education workshops to over 1,000 middle and high school students. Caitlin also helped launch WiseTech Ed, an education startup that empowers students, families and schools to develop community-wide solutions that address the unintended consequences of technology. She has a Masters in Education from Mills College in Oakland and a B.A. in American Studies from UC Santa Cruz. Over the years she has learned the importance of building people's confidence and strong communication skills, so that communities feel empowered to advocate for themselves and others to create a more just world. Many things bring her joy but especially raising her son, rock climbing, being outdoors, connecting with friends and family, and being born and raised in Oakland, CA.
Project Coordinator, VISTA
Jim Bruce
Jim Bruce is a passionate educator, advocate, and leader, with a focus on promoting underrepresented student voices through various forms of expression. Fundamental to his career is his work in museums, educational book publishers, schools, and community centers. Recently, he taught studio and community classes and created home project videos for the Richmond Art Center. Mr. Bruce also provided research and vision to bring the Media Arts to the Young Audiences Northern California program. This effort led to a Davis Media Arts Professional Development Intensive "Best Practices" presentation. As an Americorps Vista member, he is excited to help grow and engage with the community of aspiring and thoughtful people nourished by The Practice Space. 
As an artist, Jim pursues multiple forms of visual expression and storytelling. He shares an office, studio, and warm home with his wife and three cats. His son is an ongoing source of inspiration, influence, and love as he studies at UC Davis.
Board President
Sylvia Sudat
Sylvia Sudat is an Investigator and Biostatistician at the Center for Health Systems Research, Sutter Health, where she focuses on analyzing data from electronic health records and translating the results into (hopefully) understandable English. She received her PhD in Biostatistics from the University of California at Berkeley. She is passionate about the importance of effective communication, and is deeply committed to supporting empowerment through a strong sense of confidence in personal expression. During her youth, she grew to love public speaking through theater, music, debate, and her involvement in the International Order of the Rainbow for Girls, a leadership and community service organization. When she is not at work or at Practice Space board meetings, she can most frequently be found singing, listening to audiobooks, running around after her three children, or drinking copious amounts of tea.
Board Vice President
Johnny Lin
Johnny Lin is the President at Title Nine Sports, a Bay Area based retailer of women's outdoor athletic apparel and gear.   Johnny is proud to have started the Title Nine Women's Fund.  The Practice Space was one of the inaugural recipients of a grant from the fund.  The fund is focused on helping non-profits focused on helping women lead, risk and own in sports, reproductive justice and leadership and politics.   
Johnny is an alumni of the West Contra Costa School district.  He graduated from De Anza High School in Richmond, CA and recently started a scholarship fund in his parents honor for children of immigrant families.  Johnny also received a degree in economics from UC Berkeley and an MBA from Kellogg Graduate School of Business at Northwestern University.
Johnny is passionate about the power of public speaking and communication. As someone who still gets "sweaty palms" when he has to speak publicly, Johnny understands the power of coaches and practice to help overcome this fear.  
Johnny currently lives in Marin and enjoys spending time outdoors with his wife Jeannie and three boys, Henry, Eddie and TJ.
Board Secretary
Ione Bell
Ione Bell has been a Human Resources professional with Alameda County for over twenty years, which includes identifying and analyzing issues related to classification, organizational structure, examination procedures, recruitment and other human resource related activities.  She has played an active role as a parent volunteer for several years: planning and coordinating school events, recruiting parents to support events, conducting workshops and other activities as needed, reviewing and recommending improvements to volunteer programs and opportunities, and maintaining records on fundraising and volunteer activities.  Ione attended Cal State East Bay focusing on Business Administration with an emphasis in Human Resources.  She is proud of being an Army veteran and loves crafting and travelling in her spare time.
Board Treasurer
Paul Baines
Paul Baines is Engineering Manager for Data & Machine Learning at Checkr, Inc, after being part of the Data Science Technology team at Wise.io (GE Digital). With the Wise.io team, Paul helped build intelligent industrial systems that aim to make the world a safer and more efficient place. Prior to joining Wise.io, he was an Assistant Professor of Statistics at UC Davis, where he learned the joys and challenges of public speaking by teaching Statistics to over 2,000 students. In addition to his role as Board Treasurer, Paul serves as resident handyman and barista at The Practice Space. Paul received his PhD in Statistics from Harvard University, an MPhil in Statistical Science from Cambridge University, and a bachelors degree in Mathematics from Durham University in England. In his spare time, Paul enjoys running ultramarathons and curling up with his dog, Leo, to recover from them.
Board Member
Arthur Guimaraes
Arthur Guimaraes
 is Chief Operating Officer at the over $125 billion University of California Office of the Chief Investment Officer of the Regents (UC Investments) where he leads the Operating organization. He has managed the $25 billion defined contribution pension plan and in 2018 was awarded the Innovation award by Pension and Investment and the Defined Contribution Institutional Investment Association. He joined UC Investments in 2014. He has more than 15 years of experience in asset management including at Alberta investment Management Corporation and Manulife Financial. 
Arthur
 is passionate about diversity and inclusion. He is a member of the Portuguese Diaspora Council, a global network appointed by the President of Portugal. He is also passionate about education, having served on several school boards in both Canada and the US. 
Arthur
 holds a BBA from the Schulich School of Business at York University in Canada, where he graduated with distinction and has instructed in the BBA and MBA programs.  He has also served as an instructor for the Institute of Chartered Accountants of Ontario as a CPA, CBV and CA. In his free time, he enjoys spending time with his wife and three kids, who are also TPS alumni.
Board Member
Elaine Lin Hering
Elaine Lin Hering is Managing Partner of Triad Consulting Group, where she works with clients to diagnose challenges and deliver solutions to build management capacity in negotiation, influence, and conflict management skills.
She has facilitated executive education programs at Harvard, Dartmouth, UCLA and Tufts, served as the Advanced Training Director for the Harvard Mediation Program, and teaches negotiation as a faculty member at Harvard Law School. She has worked with coal miners at BHP Billiton, micro-finance organizers in East Africa, mental health professionals in China, and senior leadership at the US Department of Commerce. Her representative clients include American Express, Capital One, Google, Merck, Nike, Shell, Pixar, the Red Cross, and Workday. She has been an invited speaker at conferences ranging from the World Business Dialogue in Germany to the Auschwitz Institute on Peace and Reconciliation.
Prior to joining Triad, Elaine taught negotiation and mediation at Monash Law School in Melbourne, Australia and was a Senior Consultant for Conflict Management Australasia, helping them expand their practice in the region.
Elaine is a graduate of Harvard Law School and the University of California Berkeley, where she studied Political Science and Music, and Sino-American Relations at Peking University in Beijing. As a facilitator, Elaine draws upon lessons she's learned living as a minority across cultures and from teaching piano to children under the age of 12.
Board Member
Lorna Contreras-Townsend
Lorna Contreras-Townsend was born and raised in the East Bay and attended all WCCUSD schools, including El Cerrito High School where she was a policy debater for 4 years. She attended St. Mary's College of California and received a Bachelor's degree in Politics with a minor in Spanish, then went on to pursue a Master's in Psychology from The Wright Institute. She spent over a decade in nonprofit management and is now committed to driving inclusion and workforce development strategies for corporate environments. Lorna's heart lies in community advocacy and she is passionate about public speaking and storytelling and its importance to amplifying voices in places where systemic injustices have been so deeply embedded. 
Board Member
Maria Resendiz
Maria Resendiz is a community outreach worker with over 20 years of experience working in local schools in the City of Richmond and the West Contra Costa Unified School District. As a program developer and coordinator, she connects families with community resources and facilitates learning experiences and partnerships to help parents better advocate for themselves and their families. Maria is a passionate networker, connecting people to help improve conditions for children in urban schools. She is excited to serve on The Practice Space Board to help individuals discover who they are and find their voice in the world. Outside of work, Maria spends her time on family activities and teasing her husband and best friend of 28 years.
Board Member
Todd Groves
Todd Groves supported public education in a variety of roles over the past 20 years. Most recently, he was elected to the West Contra Costa Unified Board of Education from 2012–16, with his colleagues electing him to clerk in 2013 and president 2014. Todd led WCCUSD through the implementation of the largest one-to-one device to student initiatives in the country. He saw his role as bridging gaps between educational researchers, innovators, policy makers and practitioners.
Todd has also been a board member of many nonprofit organizations. He worked under the famous disability rights advocates Judith Heumann and Ed Roberts on international disability rights issues and toward the passage of the Americans with Disabilities Act. He raised two children whom attended WCCUSD schools and he performed many varied volunteer roles throughout the district. Todd earned an AB in Neuroscience from Oberlin College in 1986.
Coach - Debate
Joel Jacobs
Joel Jacobs has been involved with debate for four decades, as a successful high school and college competitor, judge, debate parent, and coach. He claims to have been involved in parliamentary debate longer than any other high school coach in California, but has no idea whether that is actually true. He has coached debaters who won the high school and college national championships, the California State Championship, and invitationals on both coasts, and who were ranked in the Top 5 nationally. He is currently the head coach of Berkeley High School, and serves on the board of the National Parliamentary Debate League, as the Director of the Parliamentary Tournament of Champions. By day, he is a practicing lawyer, and sometimes serves as faculty in a trial skills training program for other lawyers.
Program Advisor and Coach
Cristy Kountz
Cristy Kountz has been involved in public speaking since her days on the El Cerrito High School speech and debate team, both as a student and a former coach. She is a longtime advocate for the education needs of English Language Learners and has worked with teens from all over the world in both the Duval County Public Schools in Florida and the West Contra Costa Unified School District in the Bay Area. Cristy is passionate about helping The Practice Space provide a space in the community to help people improve and empower themselves through the art of communication. She spends her spare time doing yoga and visiting family and friends on both coasts.
Coach—Acting and Oral Delivery
Gabrielle Meacham
Gabrielle Meacham is a Theater and Music major at Pepperdine University, where she also studies dance and stage directing. She grew up performing in Bay Area community theaters, dance recitals, and voice recitals. At El Cerrito High School, she competed for four years with the Speech and Debate Team, and has coached the Summer Camp for the past three years. She is passionate about teaching, and loves supporting students in becoming the most confident versions of themselves through performance and communication. 
Coach—Young Speakers Club
Ryan Miller
Ryan Miller is a El Cerrito High School alumni. He is pursuing a Material Science and Engineering Major and an Education Minor at the University of California, Davis. In high school he joined the Speech and Debate team for three years to improve his public speaking ability and become more comfortable with it. Ryan understands the intimidation and fears of public speaking and wants to help other students overcome them and improve.
Coach—Debate
Sarah Cadorette
Sarah Cadorette has nearly 15 years of experience as an educator, during which time she has taught English, writing, rhetoric, leadership skills and cultural competency to students from ages 8 to 80. Growing up, she was active in community theater and speech (Dramatic Duo!), and knows just how much these experiences boosted her confidence and opened up opportunities to explore new passions. In her spare time, Sarah is working on publishing a book of essays. She is excited to share her love of rhetoric and public speaking with students at The Practice Space, and to watch them grow into bolder, more impactful speakers!
Coach—Comedy
Jan Solomita
Jan Solomita is a public speaking coach with a rich and varied background that he brings to his craft. Jan began his career working with young people in his native Massachusetts at The Newton Youth Foundation, where he was eventually named Theater Arts Director leading drama exercises and overseeing in-house production. He also has a background in the performing arts as a SAG/AFTRA actor and a professional comedian. Upon coming to the Bay Area Jan joined the staff as a counselor at Lucinda Weeks/Edgewood Children's Center in San Francisco, while simultaneously studying acting under Jean Shelton. Over the years Jan has developed seminars and workshops as a part of his coaching practice. He is a consummate speaker and trainer bringing his experience and insights to individuals and small businesses in their public speaking.