Executive Director
AnnMarie Baines
AnnMarie Baines has 20 years of experience in public speaking, vocal performance, and coaching. She has been a public speaking coach since 2001, including a decade at El Cerrito High, where her students have won prestigious awards at local, state, and national championships. The idea for The Practice Space came from her students, after years of hosting Sunday practices in her living room. AnnMarie has taught public speaking at UC Berkeley in the Department of Theater, Dance, and Performance Studies. She also performs with the San Francisco Symphony Chorus and studied voiceover acting at Voicetrax Sausalito. She currently serves on the Board of Directors for the Richmond Promise and project-based learning organization PBLWorks. In 2019, she was awarded a two-year Deeper Learning Equity Fellowship, a national fellowship for education leaders dedicated to promoting equity in schools and communities.
As a teacher and researcher, AnnMarie has focused on middle school, high school, and higher education, beginning her career as a high school special education teacher in the Boston Public Schools. During her time as a professor of secondary education at San Francisco State, she coached teachers and wrote a book for Teachers College Press entitled "(Un)Learning Disability". As a former Program Officer at the George Lucas Educational Foundation, she specialized in project-based learning, curriculum design, social and emotional learning, and developing youth voice. AnnMarie received her PhD in Educational Psychology and Learning Sciences from University of Washington, Master's in Education Policy from Harvard, teaching credential from Boston Teacher Residency, and undergraduate degree from UC Berkeley. She is a graduate of West Contra Costa Unified and an El Cerrito resident. Outside of The Practice Space, AnnMarie likes to bake cakes and other treats, unsuccessfully attempting to imitate what she watches on the Great British Baking Show.
Deputy Director
Maribel Lopez
For the past twenty years, Maribel Lopez has been on a journey to expand educational equity through parent, student & community engagement, curriculum writing, and individual leadership development coaching in her community of West Contra Costa. In that time, she has developed skills and a passion that drives her to find new ways to affect positive change for social justice and racial equity.
As a former West Contra Costa student, bilingual elementary school teacher, and current parent of two daughters that attend WCCUSD schools, Maribel has deep roots in the community. Maribel was named WCCUSD teacher of the year in 2015 and uses her experiences to help create trusting relationships with families and decision makers centered around social justice and equity. Maribel has developed and led community leadership development work with a DEI lens where participants learn to harness their innate power by developing skills and strategies to support their advocacy and leadership efforts. Maribel holds a B.A. from the University of California, Berkeley in Social Welfare and a Masters in Urban Education from Loyola Marymount University.
Maribel lives in Richmond with her husband, two daughters, two french bulldogs and enjoys quiet moments of contemplation and decaf-coffee. 
Head of Storytelling and Marketing
Diana Medina
Diana Medina is a first-generation Mexican-American, born and raised in Los Angeles, CA. She has dedicated her career to being a champion for causes that strengthen, empower, and educate the communities of color. She brings over a decade of experience in the nonprofit sector where she has worked architecting programs and capacity building initiatives in the areas of criminal justice, youth development, education advocacy, and family engagement. Her passion is to uncover the full potential of individuals and organizations to make the world a better place. She is excited to channel her experiences and skills to serve The Practice Space. 
Diana holds a Bachelors degree in Political Science from California State University, Northridge and a Masters degree in Public Administration from the University of Southern California. She is an alumna of the Coro Fellowship in Public Affairs and the Education Pioneers Graduate Fellowship. She is currently working on obtaining her certification in Coaching for Transformation. In addition, she is participating in Alegria Magazine's Publishing Program, which supports up and coming Latinx writers to author their first books. Through this program she is working on her book, Heal Out Loud, which will be completed in 2021. In her spare time she puts her passions to work as a writer, storyteller, poet, and self-proclaimed extreme crafter who loves all things DIY.
Director of Development & Operations
Caroline Clarke
Caroline Clarke has worked in development for over 15 years in the UK and the US. For the last 9 years, she has been the development and operations director at the Green Science Policy Institute in Berkeley. In this role, she has worn many hats: grants management, prospect research, budget management and board relations, to name just a few. Previously Caroline lived in the UK and worked in the development offices of the London Business School and the London School of Economics. She later lived in India where she carried out prospect research projects for a variety of arts and education organizations. She holds a BSc (Econ) and an MSc (Econ) in Politics of the World Economy from the London School of Economics. 
Caroline is delighted to join The Practice Space team. She believes fostering confidence in youth through public speaking is critical for success in school, the workplace and every other aspect of life.
You will often find Caroline walking the neighborhood with her rescue dog Amber, rushing to pick up one of her kids from school or watching teen-friendly shows with her family.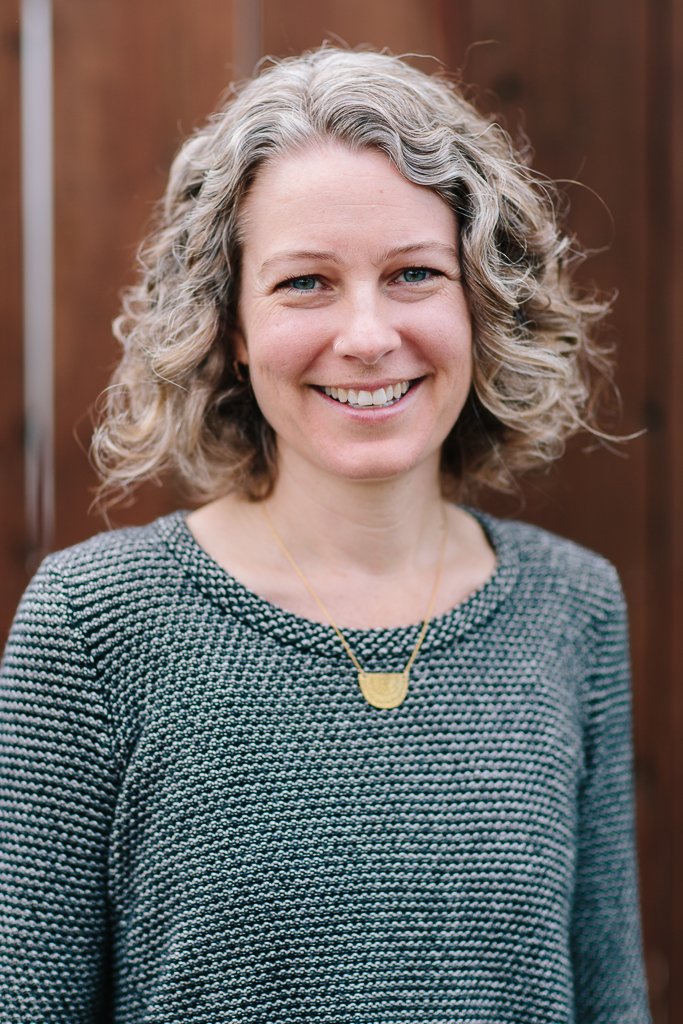 Head of Research and Development
Caitlin Healy
Caitlin Healy is an educator with over 15 years of experience teaching youth of all ages, as well as adults, and has been at The Practice Space for over three years. Prior to joining the team, Caitlin taught social studies for seven years in public schools, where she helped coach teachers on project based and blended learning. As a Program Coordinator for San Francisco Peer Resources, she supported high school students in facilitating peer education workshops to over 1,000 middle and high school students. Caitlin also helped launch WiseTech Ed, an education startup that empowers students, families and schools to develop community-wide solutions that address the unintended consequences of technology. She has a Masters in Education from Mills College in Oakland and a B.A. in American Studies from UC Santa Cruz. Over the years she has learned the importance of building people's confidence and strong communication skills, so that communities feel empowered to advocate for themselves and others to create a more just world. Many things bring her joy but especially raising her son, rock climbing, being outdoors, connecting with friends and family, and being born and raised in Oakland, CA.
Program Manager
Cynthia Pinto
Cynthia Pinto is a first-generation Portuguese-American with roots in Angola and the Azores. She hails from Livingston, a small farming and factory town in the heart of the California Central Valley. She has nearly a decade of experience as an educator and educational professional working as a professor of English, a fellow in Peralta's Faculty Diversity Internship Program, and as the Senior Assistant Director of Graduate Admissions at Mills College. She holds a Bachelor's degree in Literature with a concentration in Creative Writing from the University of California, Santa Cruz, and an MFA in Creative Writing from Mills College. Cynthia is aligned with The Practice Space's mission to help folks find their voices and give them the confidence to elevate them. As a queer person of color, her time at Mills showed Cynthia she could be authentic and feel comfortable in her skin by using her voice and standing up for her beliefs. Her passion for helping individuals, especially those from underserved and underrepresented backgrounds, find their voice and see the best in themselves is at the center of everything she does. Cynthia believes that seeing someone first as a person is the key to helping them unlock their potential. When she isn't working at The Practice Space, one will find her cooking meals for her loved ones, resting with her senior dog, cheering on her favorite sports teams, reading, writing, and binge-watching various TV shows.
Project Coordinator, VISTA
Jim Bruce
Jim Bruce is a passionate educator, advocate, and leader, with a focus on promoting underrepresented student voices through various forms of expression. Fundamental to his career is his work in museums, educational book publishers, schools, and community centers. Recently, he taught studio and community classes and created home project videos for the Richmond Art Center. Mr. Bruce also provided research and vision to bring the Media Arts to the Young Audiences Northern California program. This effort led to a Davis Media Arts Professional Development Intensive "Best Practices" presentation. As an Americorps Vista member, he is excited to help grow and engage with the community of aspiring and thoughtful people nourished by The Practice Space. 
As an artist, Jim pursues multiple forms of visual expression and storytelling. He shares an office, studio, and warm home with his wife and three cats. His son is an ongoing source of inspiration, influence, and love as he studies at UC Davis.
Board President
Sylvia Sudat
Sylvia Sudat is an Investigator and Biostatistician at the Center for Health Systems Research, Sutter Health, where she focuses on analyzing data from electronic health records and translating the results into (hopefully) understandable English. She received her PhD in Biostatistics from the University of California at Berkeley. She is passionate about the importance of effective communication, and is deeply committed to supporting empowerment through a strong sense of confidence in personal expression. During her youth, she grew to love public speaking through theater, music, debate, and her involvement in the International Order of the Rainbow for Girls, a leadership and community service organization. When she is not at work or at Practice Space board meetings, she can most frequently be found singing, listening to audiobooks, running around after her three children, or drinking copious amounts of tea.
Board Vice President
Lorna Contreras-Townsend
Lorna Contreras-Townsend was born and raised in the East Bay and attended all WCCUSD schools, including El Cerrito High School where she was a policy debater for 4 years. She attended St. Mary's College of California and received a Bachelor's degree in Politics with a minor in Spanish, then went on to pursue a Master's in Psychology from The Wright Institute. She spent over a decade in nonprofit management and is now committed to driving inclusion and workforce development strategies for corporate environments. Lorna's heart lies in community advocacy and she is passionate about public speaking and storytelling and its importance to amplifying voices in places where systemic injustices have been so deeply embedded. 
Board Secretary
Rashon Lane
Rashon Lane (She/Her) is a proud graduate of K-12 WCCUSD schools and a native of Richmond, California. She is a Senior Health Equity Scientist at Sutter Health's Institute for Advancing Health Equity. Rashon is motivated by developing research addressing the root causes of health, specifically cardiovascular disease and mental health. She is driven to center marginalized communities in the research process with the aim of equitable research focusing on justice and healing. Rashon served as a Senior Health Scientist/Behavioral Scientist at the U.S. Centers for Disease Control and Prevention for 15 years. Rashon finds joy in mentoring BIPOC college students and early career professionals and was awarded 2022's Most Influential Women in the San Francisco Bay Area.
Rashon completed her doctorate in medical sociology at the University of California San Francisco and has a master's from Claremont Graduate University and a bachelor's from Tuskegee University in psychology. She is an amateur gardener/plant mom and enjoys trying new coffee/tea while traveling.
Board Treasurer
Paul Baines
Paul Baines is Head of Engineering for QCWare, after being at Checkr, Inc and Wise.io (GE Digital). With the Wise.io team, Paul helped build intelligent industrial systems that aim to make the world a safer and more efficient place. Prior to joining Wise.io, he was an Assistant Professor of Statistics at UC Davis, where he learned the joys and challenges of public speaking by teaching Statistics to over 2,000 students. In addition to his role as Board Treasurer, Paul serves as resident handyman and barista at The Practice Space. Paul received his PhD in Statistics from Harvard University, an MPhil in Statistical Science from Cambridge University, and a bachelors degree in Mathematics from Durham University in England. In his spare time, Paul enjoys running ultramarathons and curling up with his dog, Leo, to recover from them.
Board Member
Todd Groves
Todd Groves supported public education in a variety of roles over the past 20 years. Most recently, he was elected to the West Contra Costa Unified Board of Education from 2012–16, with his colleagues electing him to clerk in 2013 and president 2014. Todd led WCCUSD through the implementation of the largest one-to-one device to student initiatives in the country. He saw his role as bridging gaps between educational researchers, innovators, policy makers and practitioners.
Todd has also been a board member of many nonprofit organizations. He worked under the famous disability rights advocates Judith Heumann and Ed Roberts on international disability rights issues and toward the passage of the Americans with Disabilities Act. He raised two children whom attended WCCUSD schools and he performed many varied volunteer roles throughout the district. Todd earned an AB in Neuroscience from Oberlin College in 1986.
Board Member
Elaine Lin Hering
Elaine Lin Hering is Managing Partner of Triad Consulting Group, where she works with clients to diagnose challenges and deliver solutions to build management capacity in negotiation, influence, and conflict management skills.
She has facilitated executive education programs at Harvard, Dartmouth, UCLA and Tufts, served as the Advanced Training Director for the Harvard Mediation Program, and teaches negotiation as a faculty member at Harvard Law School. She has worked with coal miners at BHP Billiton, micro-finance organizers in East Africa, mental health professionals in China, and senior leadership at the US Department of Commerce. Her representative clients include American Express, Capital One, Google, Merck, Nike, Shell, Pixar, the Red Cross, and Workday. She has been an invited speaker at conferences ranging from the World Business Dialogue in Germany to the Auschwitz Institute on Peace and Reconciliation.
Prior to joining Triad, Elaine taught negotiation and mediation at Monash Law School in Melbourne, Australia and was a Senior Consultant for Conflict Management Australasia, helping them expand their practice in the region.
Elaine is a graduate of Harvard Law School and the University of California Berkeley, where she studied Political Science and Music, and Sino-American Relations at Peking University in Beijing. As a facilitator, Elaine draws upon lessons she's learned living as a minority across cultures and from teaching piano to children under the age of 12.
Board Member
Jade Shipman
Jade Shipman owns a consulting firm that advises nonprofits, banks, and governments nationwide on how to improve economic development in low-income communities.  In this work, she conducts interviews and surveys to understand the stories and needs of lower-income people.  She is deeply committed to ensuring that regardless of background, people can find their voice, express their needs, and be responded to effectively by the programs seeking to help them thrive.  She holds a Master's degree in City Planning from the University of Pennsylvania, and a BA with High Honors from the University of California at Santa Barbara.  In her free time, she can be found playing music with several bands, volunteering, snuggling with her cats, and going on long walks around San Francisco.
Board Member
Jessie Stewart
Jessie Stewart is the Director of Community Engagement & Partnerships at Cameron Institute and brings a decade of experience at the intersection of education, community development, and higher education equity. She leads the development of intentional, reciprocal, and sustained community and student-driven engagement efforts between Cal Athletics and the larger campus and Bay Area communities. 
Prior to Cal, Jessie had the privilege of serving as the Founding Executive Director for the Richmond Promise, where she had the opportunity to collaborate and see the positive impact of the Practice Space first-hand, through workshops with Richmond Promise Scholars. 
Jessie lives in Richmond, and when she is not working, she loves to run, take the ferry across the Bay, travel to northern Michigan, seek out awesome views, and spend time with her husband Brian and baby girl, Avi Mae.
Board Member
Dr. Evangelia Ward-Jackson
Dr. Evangelia "Angel" Ward-Jackson is a servant leader and nurturer of brilliance who is also a first-generation college grad, and a life-long learner that has earned three master's degrees (M.A., M.Ed., M.Th.), two doctoral degrees (Ed.D., Ph.D.) and several credentials. In addition to being a Principal Executive Consultant specializing in coaching leaders and businesses on strategy, precision, and progressive impact, Dr. Ward-Jackson serves as the Senior Director of Humanities & DEI for Envision Education, a network of public charter schools in Oakland, Hayward, and San Francisco. Her 25+ years of experience in the field also includes service as a teacher/professor, an instructional leader, and as an executive school leader across the traditional public, public charter, collegiate, and for-profit supplemental education sectors. She is a civically engaged leader who navigates the field of education with contagious joy, and a persuasive acuity that consistently leads to progressive outcomes. A proud and involved Hercules resident, City Commissioner, Education Foundation Director, and Rotarian, Dr. Ward-Jackson is also a family-oriented person who enjoys traveling, singing, writing, and cultivating others towards success.
Coach - Debate
Joel Jacobs
Joel Jacobs has been involved with debate for four decades, as a successful high school and college competitor, judge, debate parent, and coach. He claims to have been involved in parliamentary debate longer than any other high school coach in California, but has no idea whether that is actually true. He has coached debaters who won the high school and college national championships, the California State Championship, and invitationals on both coasts, and who were ranked in the Top 5 nationally. He is currently the head coach of Berkeley High School, and serves on the board of the National Parliamentary Debate League, as the Director of the Parliamentary Tournament of Champions. By day, he is a practicing lawyer, and sometimes serves as faculty in a trial skills training program for other lawyers.
Coach—Acting and Oral Delivery
Gabrielle Meacham
Gabrielle Meacham is a Theater and Music major at Pepperdine University, where she also studies dance and stage directing. She grew up performing in Bay Area community theaters, dance recitals, and voice recitals. At El Cerrito High School, she competed for four years with the Speech and Debate Team, and has coached the Summer Camp for the past three years. She is passionate about teaching, and loves supporting students in becoming the most confident versions of themselves through performance and communication. 
Coach—Young Speakers Club
Ryan Miller
Ryan Miller is a El Cerrito High School alumni. He is pursuing a Material Science and Engineering Major and an Education Minor at the University of California, Davis. In high school he joined the Speech and Debate team for three years to improve his public speaking ability and become more comfortable with it. Ryan understands the intimidation and fears of public speaking and wants to help other students overcome them and improve.
Coach—Debate
Sarah Cadorette
Sarah Cadorette has nearly 15 years of experience as an educator, during which time she has taught English, writing, rhetoric, leadership skills and cultural competency to students from ages 8 to 80. Growing up, she was active in community theater and speech (Dramatic Duo!), and knows just how much these experiences boosted her confidence and opened up opportunities to explore new passions. In her spare time, Sarah is working on publishing a book of essays. She is excited to share her love of rhetoric and public speaking with students at The Practice Space, and to watch them grow into bolder, more impactful speakers!
Coach—Young Speakers
Camila Morales-Jimenez
Camila Morales-Jimenez has been working as a speech and debate coach for elementary-aged students at The Practice Space since 2017. Camila has several years of performance and public speaking experience: competing in Lincoln-Douglas debate for two years at El Cerrito High School; participating in Poetry Out Loud for four years and winning second place at the district level in 2016; and taking nine years of dance classes and performing in recitals across the Bay. As a coach, Camila is passionate about creating a fun, vibrant, and welcoming space for youth to find their voices!
Junior Board of Directors
2022-2023 Junior Board: Stella Adler, Everett Aishiteru, Mistura Bankole (co-chair), Amber Crenna-Armstrong (co-chair), Will Flowers, Cole Guimaraes, Alonso Hernandez, Lindsey Lam, Max Mankita, Elohiym Mudaavanha, Mercy Niyi-Awolesi, Chelsy Silva
2021-2022 Junior Board: Mistura Bankole, Mariana Castro (chair), Amber Crenna-Armstrong, Will Flowers, Lindsey Lam, Elohiym Mudaavanha, Mercy Niyi-Awolesi, Michael Schoonover, Mela Seyoum, and Gloria Zearett.
2022-2023 Assistant Coaches: Stella Adler, Theo Borys, Ella Bramwell, Maddy Christensen, Alonso Hernandez, Jamie Lacson, DeAndre Lendsey, Max Mankita, Elohiym Mudaavanha, Melchizedek Mudaavanha, Maria Ortega, Zander Peterson, Natalia Rojas, Chelsy Silva, Camila Uribe, and Esmeralda Vasquez