It is 3:30pm on a Tuesday, and 14 high school students have gathered together to prepare speeches for an upcoming community engagement night. It is the first time they have been invited as keynote speakers and they know it is a big deal. Chattering excitedly over pizza, they try to figure out what issues from their lives most represent them. "The only thing that keeps coming to mind is that I had to switch schools a lot," one girl mentions. "I could tell my story about that really easily, but it doesn't seem important enough. Does anyone really want to listen to that story?" Thirty minutes later, she has discarded scribbled pages with outlines on school safety, arts education, and social media. "You know what? I am just going to tell a story about transitions. I learned a lot from my experience and I really want other people to know that they're not alone in how hard transitions really are."
Two aspects we believe are critical to strong leadership that aren't always emphasized are speaking with your authentic voice and listening to what people have to say. We see more than ever today how important it is that our leaders listen to the people they represent, and what it looks like when they don't. Youth voice has been particularly dismissed by those with decision-making power. However, right now we're seeing youth make their voices heard in more and more movements, including for climate justice, ending gun violence, and movements for racial justice, women, education, LGBTQ and immigrant rights. Students are speaking out on local and national levels. It's incredible! One question we've continued to ask though is, who has been given opportunities to build the confidence to voice their thoughts and concerns?
We started the Leaders that Listen program to provide that equitable opportunity that's often missing and help support youth leaders to effectively advocate for the student voices they represent. This includes engaging with community leaders, telling their personal stories, collaborating with adults, and communicating their research findings to advocate for equity in their schools. Our goal is to reach students who've received the message that their voices don't matter, to build their confidence and communication skills, and help them encourage other youth to get involved. Part of this process means helping young people feel like what they have to say is important and their experiences are valid, regardless of what issue it is and how they choose to communicate their stories.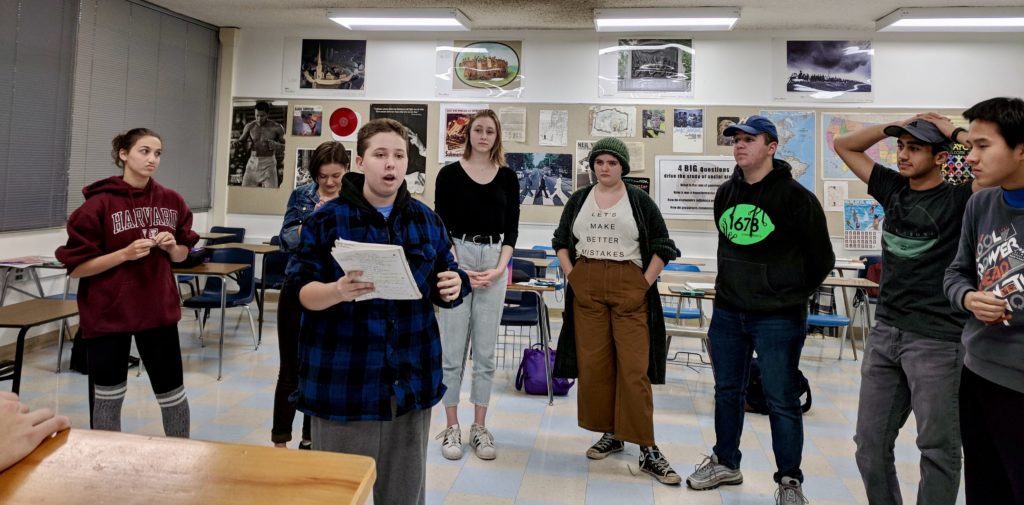 As the end of the spring semester quickly approaches, we're already beginning to wrap up our first year of Leaders that Listen, created as a year-long student leadership initiative. What started in October with building a safe space for students to openly share their personal stories and ideas, has now grown toward a culminating public event or project led by each leadership program. Throughout this school year, we've provided coaching support and curriculum resources to school and district leadership programs (i.e. Youth Commissions, student government programs) that help students develop the public speaking, communication, and research skills to be effective and collaborative leaders.
We've had so many rich conversations about what it means to lead. What would you say? How would you participate? Students may know they want to become leaders in their community, but don't always have a sense of what that would look like. Many people have an image of leadership as giving fiery speeches or being able to win an argument. We like to expand the definition of leadership to include the more subtle yet effective skills. This also increases the involvement of quieter students, those who may not fit the typical image of a leader. For instance, we teach interpersonal communication techniques like storytelling, listening and empathy, and interview and questioning. We also include more public speaking skills such as spontaneous speaking, advocacy, argumentation and oral delivery. Students practice a wide range of skills so they are able to use the appropriate technique given the situation, while also getting to discover what style of leadership is most authentic to them.
So after practicing this range of techniques and zeroing in on their culminating project in the fall, this semester students started receiving guided planning sessions and coaching in public speaking to help them prepare to present their ideas in public. They've learned how to listen, empathize with others, facilitate conversations, and communicate youth perspectives in an authentic and compelling way that engages people, rather than alienate or threaten them. We're really looking forward to students' upcoming public events! We'll be sure to share them here. Also, look out for our next post on the Leaders that Listen initiative where we will share lesson plans and reflections on teaching students how to build a team and make all students feel included!